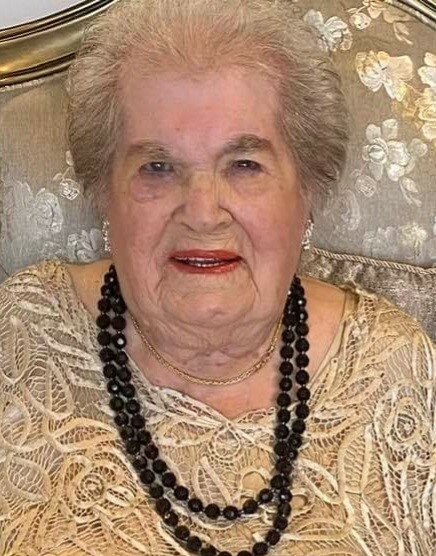 Obituary of Lina Marie (Salesse) Lapointe
The Matriarch of the Salesse family, Lina Marie (Salesse) Lapointe at 105 years old, at her home in Lake George, NB.
She leaves behind her daughters, Hellen Brideau (Alphonse) of Montreal, Edith Whitney of Dalhousie and Emely Chouinard Carrier of Lake George, NB; a son, Leonard Wojtowich (Claudette) of Sudbury, ON; stepdaughter, Nora Foshey (Bill) of Oromocto; several grandchildren and 1 great great granddaughter, Rylee Tommy of Fredericton, NB.
Lina worked as a housekeeper in Manitoba, she worked at St. Joseph Hospital, Dalhousie for 23 years, owned and operated a Special Care Home for 14 years in Balmoral, NB.
Predeceased by parents, John and Leà (Chouinard) Salesse; brothers, Elie, Alphe, Albert and Edgar; sister, Elise; Salesse; 1st husband, Edy Wojtowich, 2nd husband, Emilien Chouinard and 3rd husband, Jerry Lapointe.
Funeral Service will take place 2:00PM Friday, October 6th, 2023 at Saint-Benoit Church – 1823 Des Pionnier Ave, Balmoral, NB E8E 2W7 with Pere David Furgeson officiating.
Funeral Service
2:00 am
Friday, October 6, 2023
St-Benoit Church
1823 Des Pionniers Ave
Balmoral, New Brunswick, Canada


Share Your Memory of
Lina